The simple pathway to enterprise cloud calling.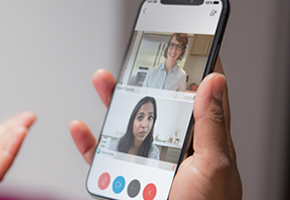 Cisco Cloud Calling
Our proven Cisco cloud calling platform is used by over 20 million business people worldwide.
Cisco Webex Teams
Make teamwork your best work with this group collaboration app.
Cisco Webex Meetings
Host events, train your team, and support your customers with this optional add-on.
Cisco Devices
Pair your solution with phones and headsets built to interoperate seamlessly with our apps.
Webex Calling makes it easy to move to the cloud at your own pace by bringing all the functionality you need together for calling and collaboration in one simple package. Deploy as cloud-only, or as part of a mixed network of cloud and on-premises PBXs, depending on your business requirements.

Find out why Nemertes calls Cisco a leader for unified communications solutions
View the report
Turning cloud calling into smarter collaboration.
Cisco cloud calling is making it possible for you to grow to your expectations, with less complexity in communications and more dynamic ways to collaborate using new cognitive calling capabilities. Find out why Cisco cloud calling is more secure, more scalable, and more ready to serve your future business needs than your existing on-premises PBX infrastructure.
Watch the Webex Calling video
A smarter way to buy the perfect mix of communications services.
Multiple licensing agreements no longer have to complicate the way you consume high-quality collaboration experiences. You can subscribe to what you need today, and add more services as you grow. And as a bonus, you can add new solutions and services to your customized collaboration portfolio-while reducing costs!
Smart devices for smarter communications.
Cisco IP Phone 7800 Series
Affordable single and multiline models for workers, conference, shared, and lobby areas.
Cisco IP Phone 8800 Series
Color LCD displays, gigabit Ethernet, Wi-Fi, Bluetooth, USB, and HD video calling models.
Cisco Headsets
Enjoy a premium audio experience in a sleek form factor for open workspaces.
Cisco ATA 190-SC-K9
One-port, handset-to-Ethernet adapter that connects one analog device to the Cisco Webex Calling service.
About
Enable Network Services
[Partner Value Proposition]
Contact Us Heading